Geothermal Salt Factory (GSF) Design in Parangwedang Geothermal, Bantul, Special Region of Yogyakarta
Alfian Gilang

UPN "Veteran" Yogyakarta

Mohammad H. Jauhari

UPN "Veteran" Yogyakarta

Maria T. Kristiati

UPN "Veteran" Yogyakarta
Keywords:
low enthalpy geothermal, salt factory, Parangwedang Hot Spring
Abstract
Indonesia has the largest geothermal energy potential in the world with potential value ±28 GWe, but the potential of geothermal low enthalpy is still not utilized properly. On the other hand, improvement in the salt industry needs to be done because the salt industry in Indonesia has not been able to meet domestic salt demand. Domestic salt supply deficit is caused by the salt industry in Indonesia just relies on salt traditional farmers who are very dependent on the sunlight and the absence of a modern and sustainable salt-making industry. Therefore, the authors made a salt factory design using low enthalpy geothermal by utilizing Parangwedang geothermal as a heat source energy. Parangwedang geothermal is located in the Special Region of Yogyakarta with existence manifestation as a hot spring. Based on previous research, the potential of Parangwedang geothermal was 10 MWe. The reservoir rock may have a temperature range 115 °C and the hot spring fluid temperature 43 °C. The hot spring distance from the seashore is 403 meters with elevation reach 8 meters. The method used in this study is literature study and data collection in the field. Literature data is obtained from various sources and then compiled and grouped for the design of the salt factory that utilizes low enthalpy geothermal energy. This factory system will involve two pumps, one of which will drain the hot water from the Parangwedang hot spring and the other will drain the water from the ocean to the salt production pan. A boiling tank and condenser are used to boil the sea. Hot water from the boiling tank is used for drying the salt brine and brine is dried in the salt pan. In the result, the authors calculated factory production capacity, the GSF production capacity is ±14 tons salt each year.
Downloads
Download data is not yet available.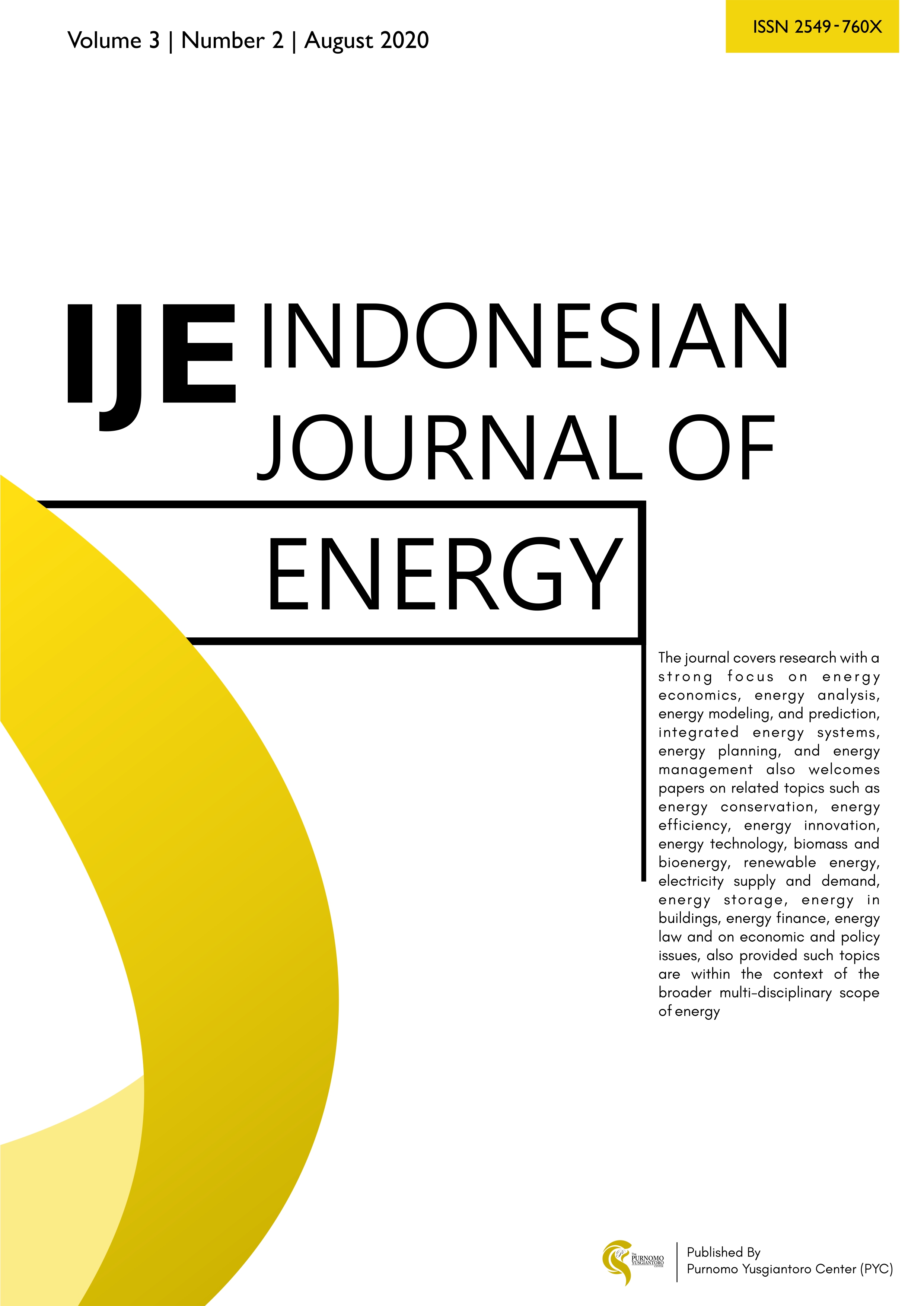 How to Cite
Gilang, A., Jauhari, M. H., & Kristiati, M. T. (2020). Geothermal Salt Factory (GSF) Design in Parangwedang Geothermal, Bantul, Special Region of Yogyakarta. Indonesian Journal of Energy, 3(2), 117-124. https://doi.org/10.33116/ije.v3i2.92