Facing Indonesia's Future Energy with Bacterio-Algal Fuel Cells
Intan Subadri

Institut Teknologi Bandung

Adhi Satriyatama

Institut Teknologi Bandung

Ignatius D. M. Budi

Institut Teknologi Bandung
Keywords:
bacteria, algae, microbial fuel cells, renewable energy
Abstract
The energy crisis has become a global issue that has plagued almost all parts of the world. MFCs (Microbial Fuel Cells) is an alternative technology because of its ability to convert waste into electrical energy. The bacterio-algal fuel cell (BAFCs) is kind of an effort for increasing the economic value and carbon capture capability of MFCs. In this case, algae used as a catholyte and organic substrate containing anode-reducing exoelectrogenic bacteria acted as anolyte. This research will examine the potential of algae in BAFCs as an alternative energy for Indonesia's future. By photosynthesis reaction, bacterio-algal fuel cells are operated in a self-sustaining cycle. It can be configured in single, dual chambers, and triple chambers. The performance of bacterio-algal fuel cells is strongly influenced by the bacterial and algae species in each compartment. Factors involved in bacterial-algal fuel cells are also analyzed and assessed: electrode materials, membrane, carbon sources, and algae pretreatment, including the operational parameter, such as pH and temperature. Bacterio-algal fuel cells are recommended to be used to convert algae into electricity by scaling-up and integrating the devices. Organic substrate could be obtained from municipal wastewater. Algae as by-product could be harvested and converted into certain products. Algal Fuel Cell is the solution to produce electricity and reduce CO2 pollution at the same time. Also, an algal fuel cell is potential for sustainable use in the future. By integrating the algal fuel cell in the factory that produces high-concentrated wastewater, the fuel cell can purify the wastewater so that it is safe to be drained to the environment and also can make an integrated electricity production for the whole factory. Some ways to improve the power production are proposed to improve the power generation from BAFCs since this technology offers clean, affordable, sustainable energy, and in-line with SDGs.
Downloads
Download data is not yet available.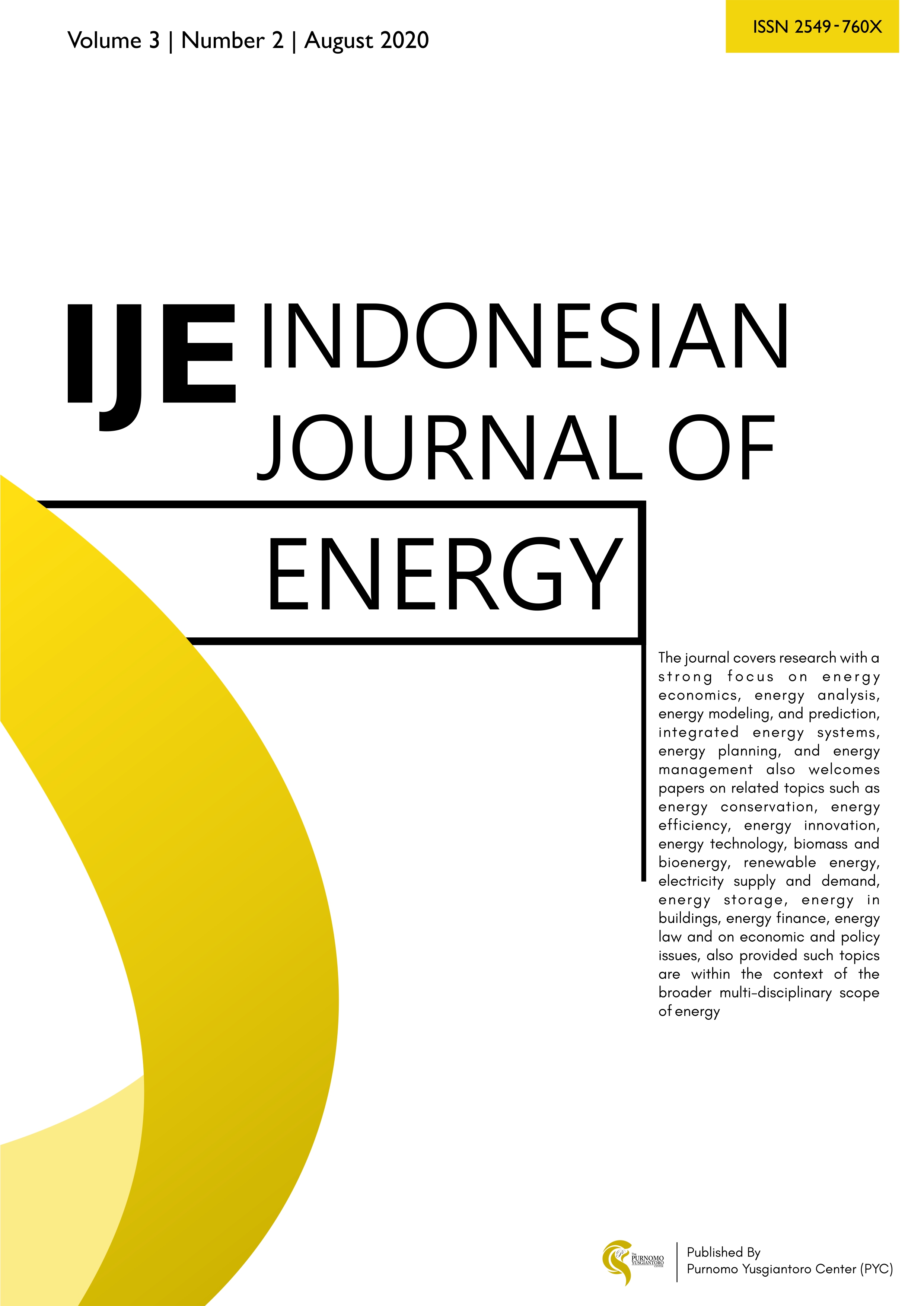 How to Cite
Subadri, I., Satriyatama, A., & Budi, I. D. M. (2020). Facing Indonesia's Future Energy with Bacterio-Algal Fuel Cells. Indonesian Journal of Energy, 3(2), 68-82. https://doi.org/10.33116/ije.v3i2.87