Biomass Waste and Low Rank Coal Gasification Technology with Carbon Capture System to Optimize A Clean Energy Production as An Alternative Solution to Achieve Energy Security in Indonesia
Ardian N. Baskoro

Institut Teknologi Bandung

Odara E. Aptari

Institut Teknologi Bandung
Keywords:
biomass, calcium, carbon capture, coal, gasification
Abstract
A shift into a more developed country means an increase in various aspects of economy, energy, social, and even environment. For Indonesia, a major change that the country needs to face is the increase of energy demand of 7% every year, reaching a final average expected energy consumption of 497.77 MTOE in 2050. In order to fulfil all upcoming energy demands and achieve energy security, it is crucial to utilize the available abundant resources that the country possesses. Two of these potential resources include coal (22.6 billion tons) and biomass (32.6 GW). Gasification is an alternative clean technology that can utilize low rank coal or biomass to convert it into syngas. The quality of syngas was characterized using the H2/CO ratio parameter. The greater the carbon density in a material, the greater H2/CO ratio will be. However, syngas produced from conventional gasification still emits CO2. Since CO2 is still emitted in coal gasification technology, a carbon capture system called HyPr-RING process is implemented as an alternative to reduce CO2 and increase the quality of syngas up to 91% volume of H2. The process uses CaO as a sorbent to capture CO2 and convert it into CaCO3 in a gasifier. Then, the CaCO3 is calcinated in a calciner to release back CaO that is recycled to capture more of the CO2. Aside from the high availability of coal and biomass, CaO as a major substance used in the CO2 capture process is also abundant in Indonesia (2,156 billion tons). This technology innovation is also economically feasible as it creates a net profit of USD 58,215 and ROI of 11%.
Downloads
Download data is not yet available.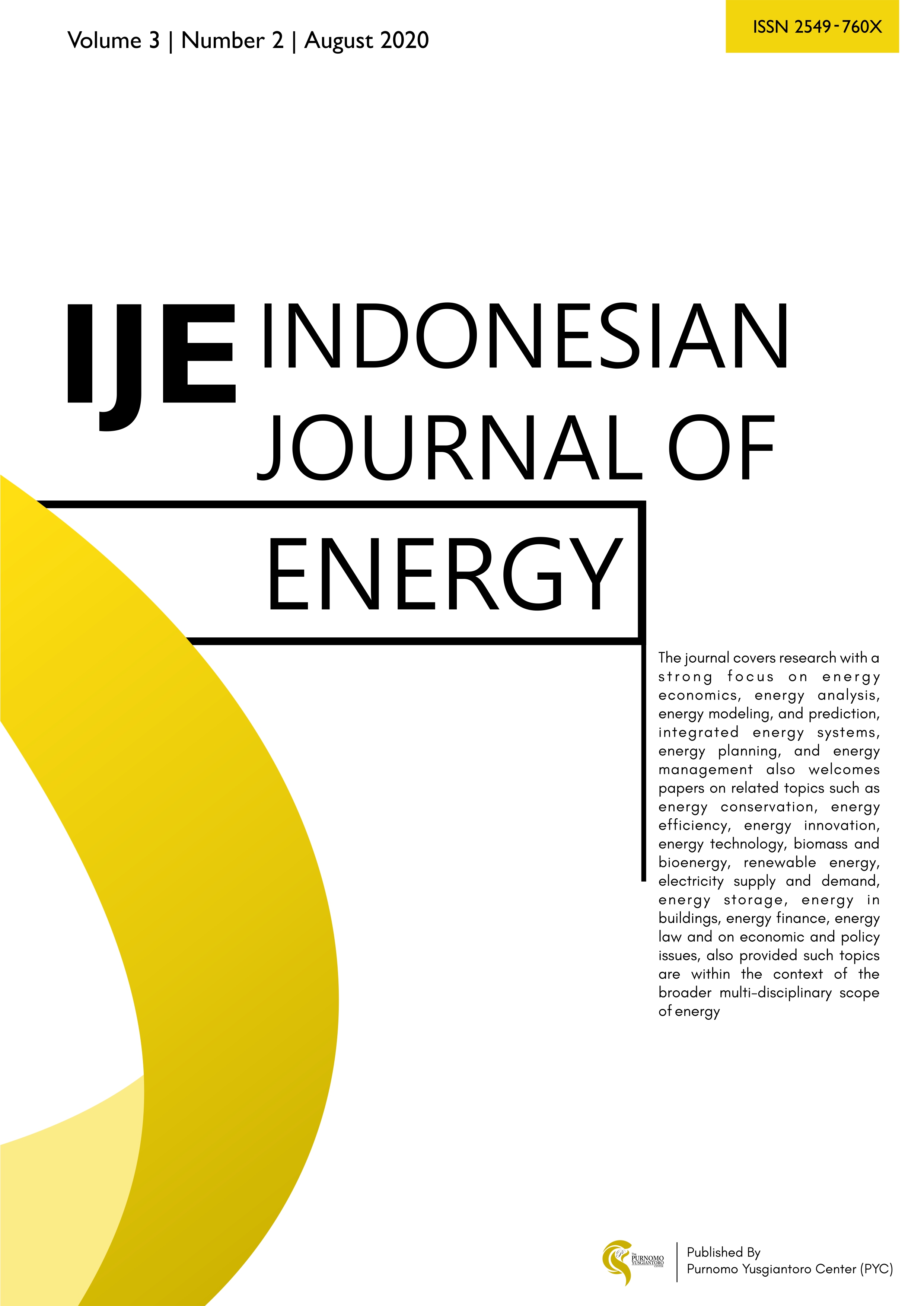 How to Cite
Baskoro, A. N., & Aptari, O. E. (2020). Biomass Waste and Low Rank Coal Gasification Technology with Carbon Capture System to Optimize A Clean Energy Production as An Alternative Solution to Achieve Energy Security in Indonesia. Indonesian Journal of Energy, 3(2), 55-67. https://doi.org/10.33116/ije.v3i2.90