Realism in the Trans ASEAN Gas Pipeline Project
Rahmadha Akbar Syah

Universitas Pertamina

Zaki Khudzaifi Mahmud

Universitas Pertamina
Keywords:
realism, neorealism, TAGP, Russian Gas Pipeline
Abstract
To improve connectivity and energy security, especially natural gas, Southeast Asian countries, under the cooperation of Association of Southeast Asian Nations (ASEAN), are trying to build a gas pipeline that stretches from Indonesia to Myanmar. The project is called the Trans ASEAN Gas Pipeline (TAGP) under the ASEAN Plan of Action for Energy Cooperation (APAEC) scheme. However, regional countries are still dealing with their domestic problems, and there are fears that TAGP is detrimental to producer countries, resulting in the delay of this project as much by as four years – from 2020 to 2024. The uncertainty of the TAGP project further emphasizes that there is a tendency for countries not to adhere to the ASEAN forum's agreements. Especially if it has to be juxtaposed with the Russian Gas Pipeline project which was built to distribute natural gas to Western European countries, TAGP is still far behind. In designing this paper, the authors use qualitative methods through literature studies by referring to the realism approach of International Relations to dissect TAGP problems. Furthermore, the author also feels the need to accommodate the neorealism approach to be used as a supportive approach in looking at the issues of disobedience in regional countries in supporting the TAGP scheme. Also, the authors conducted a brief comparison between TAGP and the Russian Gas Pipeline to be used as a case study analysis material that would later provide answers of why TAGP failed to go as planned.
Downloads
Download data is not yet available.
References
Anastasia. (2017). Perekonomian ASEAN Membaik, Bisa Tumbuh 5,1%. Media Indonesia. Retrieved from: http://mediaindonesia.com/read/detail/102610-perekonomian-asean-membaik-bisa-tumbuh-5-1.
Anbumozhi, V., & Kalirajan, K. (2017). Globalization of Low-Carbon Technologies: The Impact of Paris Agreement. Singapore: Springer Nature.
ASEAN. (2008). ASEAN Economic Community Blueprint. Jakarta: ASEAN Secretariat.
ASEAN Center for Energy. (2017). The 5th ASEAN Energy Outlook. Retrieved from: http://www.aseanenergy.org/resources/the-5th-asean-energy-outlook/.
ASEAN Council on Petroleum. (2015). Trans ASEAN Gas Pipeline Project. Retrieved from: http://www.ascope.org/Projects/Detail/1060.
ASEAN Secretariat. (2011). Master Plan on ASEAN Connectivity. Retrieved from: https://policy.asiapacificenergy.org/sites/default/files/Master_Plan_on_ASEAN_Connectivity.pdf.
Baldwin, D.A. (1993). Neorealism and Neoliberalism: The Contemporary Debate. New York: Columbia University Press.
British Petroleum. (2014). BP Statistical Review of World Energy 2013. Retrieved from: http://large.stanford.edu/courses/2013/ph240/lim1/docs/bpreview.pdf.
Carrol, T., & Sovacool, B. (2008). Contested regionalism in Southeast Asia: the politics of the trans-ASEAN Gas Pipeline Project. Singapore: Center on Asia and Globalization.
Instituto Argentino Del Petróleo Y Del Gas. (2015). The Trans ASEAN Gas Pipeline- Accelerating Gas Market Integration Within The ASEAN Region. Retrieved from: shttp://www.iapg.org.ar/WGC09/admin/archivosNew/Special%20Projects/3.%20IGU%20GMI%20Guidelines/3.%20IGU%20GMI%20Guidelines%20FINAL%20-%20CD%20contents/Transasean.pdf.
Jackson, R., & Sørensen, G. (2009). Introduction to International Relations. New York: Oxford University Press.
Kementerian Energi dan Sumber Daya Mineral (KESDM) Republik Indonesia. (2013). Indonesia Tuan Rumah Pertemuan Menteri Energi Se-ASEAN Ke-31. Retrieved from: https://www.esdm.go.id/id/media-center/arsip-berita/indonesia-tuan-rumah-pertemuan-menteri-energi-se-asean-ke-31.
Kementerian Luar Negeri. (2015). ASEAN Selayang Pandang edisi ke-21. Jakarta: Kementerian Luar Negeri-Sekretariat Direktorat Kerjasama ASEAN.
Lee, J., & Connolly, D. (2016). Pipeline Politics between Europe and Russia: A Historical Review from the Cold War to the Post-Cold War. The Korean Journal of International Studies, 14(1), 105-129.
Monaghan, A. (2005). Conflict Studies Research Centre: Russian Oil and EU Energy Security. England: Defence Academy of the United Kingdom.
Perovic, J., Orttung, R. W., & Wenger, A. (2009). Russian Energy Power and Foreign Relation: Implication for Conflict and Cooperation. London: Routledge.
Roberts, P., et al. (2003). Building the Trans ASEAN Gas Pipeline. Hong Kong: Asia Pacific Review.
Setiawan, A. et al. (2016). The Complexities of Programme Management: Case Study of Trans ASEAN Gas Pipeline. PM World Journal. Accessed from https://pmworldjournal.net/wp-content/uploads/2016/01/pmwj46-May2016-Complexities-of-Programme-Management-Trans-ASEAN-Gas-Pipeline-case-study.pdf.
Suryadi, B. (2015). Geopolitik Energi di Kawasan. Bicara Energi. Retrieved from: http://bicaraenergi.com/2015/01/geopolitik-energi-di-kawasan/.
Trade Map. (2018). List of importing markets for a product exported by Indonesia Metadata. Retrieved from https://www.trademap.org/Country_SelProductCountry_TS.aspx?nvpm=1%7c360%7c%7c%7c%7c2711%7c%7c%7c4%7c1%7c1%7c2%7c2%7c1%7c2%7c1%7c1.
Trajano, J., & Vineles, P. (2016) Road to Low-Carbon ASEAN Community. Singapore: S. Rajaratnam School of International Studies.
Yunianto, F. (2013). ASEAN Lanjutkan Bangun Jaringan Pipa Gas. Retrieved from: https://www.antaranews.com/berita/397422/asean-lanjutkan-rencana-bangun-jaringan-pipa-gas.
Zubacheva, K. (2017). Tiga Produk Yang Ternyata Diimpor Rusia. Russia Beyond the Headline (RBTH). Retrieved from: https://id.rbth.com/economics/79449-produk-impor-tak-diduga-qyx.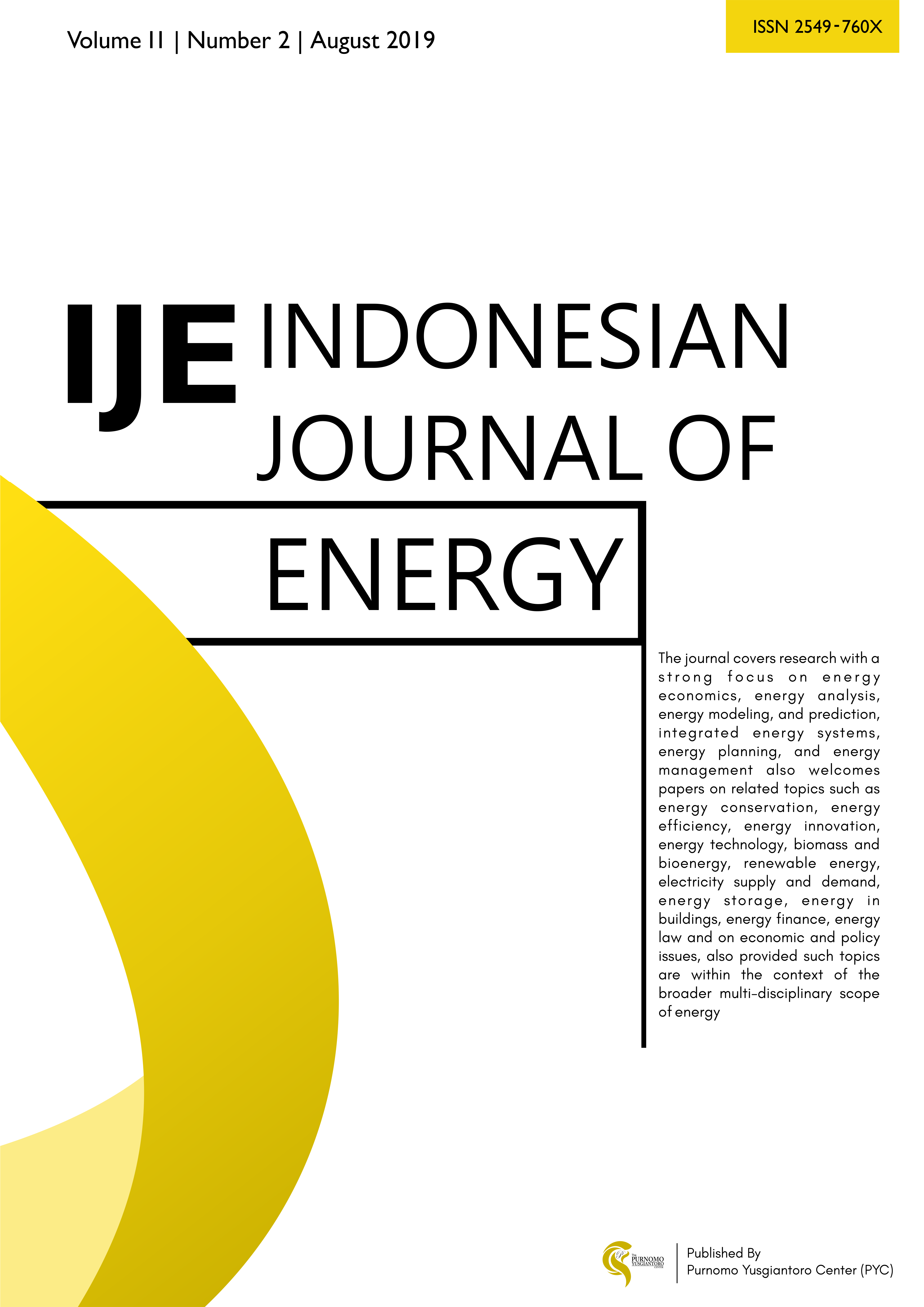 How to Cite
Syah, R. A., & Mahmud, Z. K. (2019). Realism in the Trans ASEAN Gas Pipeline Project. Indonesian Journal of Energy, 2(2), 89-98. https://doi.org/10.33116/ije.v2i2.39